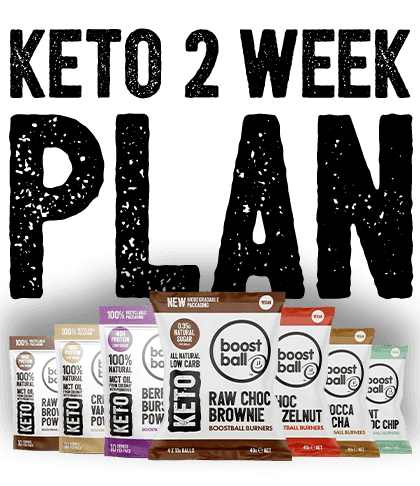 KETO 2 WEEK PLAN
Our whole range is suitable for vegans and although most of us LOVE dairy products in all shapes and forms, it's possible that skipping or reducing them in our diet could speed up weight loss and be beneficial for health. This is because dairy products contain not only milk sugar (lactose), but also milk protein (casein), which stimulates insulin secretion more than many other types of protein and can trigger overeating.

Why not try out our 2 week Keto Plan? We have devised an example meal plan below featuring our Keto Snacks PLUS… check out some very handy tips & tricks below to get you on your merry way!

**Main meals to be purchased separately
SHOP 2 WEEK KETO PLAN
WEEK 1
WEEK 2
TOP TIPS
Drink lots of fluids (1.5 – 2 litres depending on body weight) and get enough natural Celtic sea salt or pink Himalayan salt (do not use table salt), especially during the first week, to minimise symptoms of the initial "keto flu".

Add a branch chain amino acid to your keto diet to aid any muscle soreness after training & support with energy.

Weighted resistance training compliment a Keto diet very well, though you can include other activities that you enjoy such as walking, jogging & yoga.
SHOP 2 WEEK KETO PLAN
As with any diet, it's recommended to seek medical advice for any child under 16.

Safety Measures:
If you are adolescent, pregnant, breastfeeding, have a medical condition, or want to lose more than 20% of your weight - it's recommended to seek medical advice about your weight loss plans with your doctor. Boostball Keto products are not designed to be your only food and should be used as part of a varied, balanced diet and an active lifestyle.